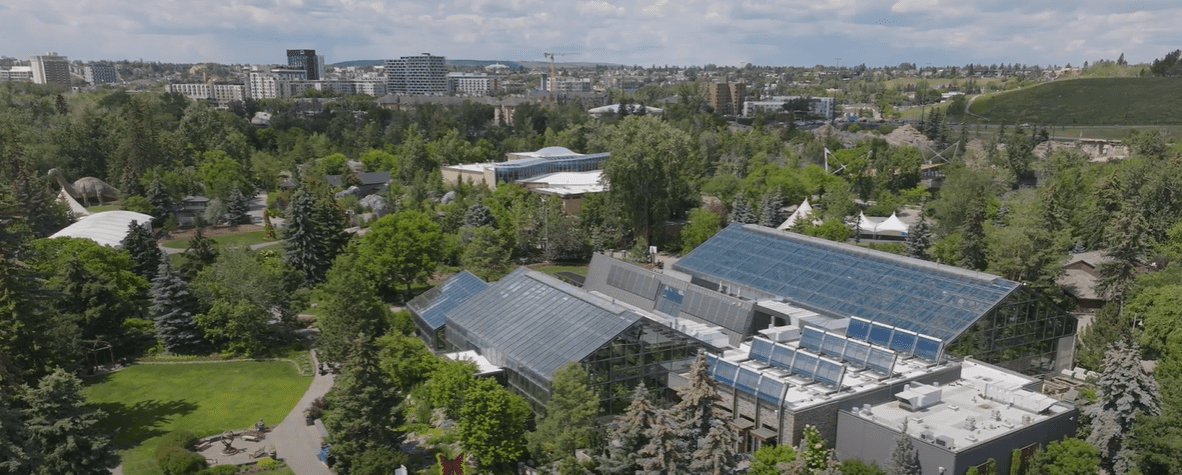 Getting Here
Wilder Institute/Calgary Zoo is located east of Calgary's downtown core, on beautiful St. George's Island.
Arriving By Car
Access to St. George's Drive is off Memorial Drive, both east and west. Signage will direct you all the way to the gate.
Address: 210 St. George's Drive NE
Arriving by Transit
The easiest way to take city transit to the zoo is the CTrain line. The Northeast line (Route 202 or the "Blue" line) will take you to Zoo Station. When you arrive, make your way to the North Gate Entrance – it's less than a five-minute walk.
Arriving on Foot or Bike
We are located just off the Bow River Pathway which provides easy access whether you are walking or biking. Following the Bow River Pathway will take you to Alberta Plaza, which leads to the North Gate Entrance.
If you are biking or scootering, there are convenient and safe racks for parking, which are monitored by our security team's cameras:
In Alberta Plaza by the North Gate Entrance
In the West Lot
If you are unsure about where to leave your bike or scooter, you can call Guest Relations for help at (403) 232-9300, extension 2.
Parking
The North Lot is our primary parking lot and is open year-round. It is located at 210 St. George's Drive NE, between the zoo's North Entrance and TELUS Spark Science Centre.
The West Lot is our secondary parking lot. It is located at the west end of St. George's Island, off Zoo Road NE.
The West Gate is currently closed. 
Parking Fees
Parking is managed through ParkPlus, by the Calgary Parking Authority. The North Lot costs a flat rate of $13 per day, and the West Lot charges $2.25 for every 30 minutes of parking for a maximum of $13.
Payment can be made through the ParkPlus app. Payment machines are located in the following locations:
Alberta Plaza (North Lot)
West Lot (note: the West Gate is currently closed)
Payment at the machines can be made via credit and cash ($1 and $2 coins). To pay with Visa Debit, you can pay online using your phone by using the instructions on the payment machines, or zoo staff can give you a QR code to use.
Parking is valid for 24 hours from the time of entry. Tickets for failure to pay are issued by the Calgary Parking Authority.
Note: Members can register with ParkPlus to receive free parking. To learn more visit our frequently asked questions here.
Monthly Parking
A limited number of parking stalls in the North Lot are available for purchase through the Calgary Parking Authority for monthly use.
Cost: $70+GST per month
Where: Calgary Zoo North Lot – ParkPlus Zone 8301 (84 St. George's Drive NE)
When: 24/7, with guaranteed availability Monday-Friday, 2am to 9am. Outside of these hours, availability is on a first-come, first served basis.